Get Your Garden in Waterloo Ready for Summer with Our Garden Waste Removal Services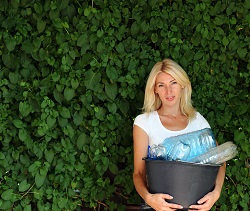 After a long winter, your garden will be in need of some work. This will mean that you will be creating lots of garden waste that you need to dispose of. There is no need to worry though, because we can organise a garden waste clearance visit to take away all your waste and recycle it. We have teams in Waterloo and all over the SE1 and SW1 areas. You will then have the perfect garden for all those summer days and barbecues. If you would like to know more about our range of SE1 garden waste removal services and prices, then call Rubbish Removal Waterloo now on 020 3743 9509 and we will tell you about all out latest deals and special offers.
We Have the Best Garden Clearance Service and the Best Prices in Waterloo
Our customer service teams will to give you many options on your SE1 garden waste removal to choose from. We can also help with patio clearance, garden sheds clearance and many other services. All our teams are experienced in garden waste clearance so you won't have to worry about anything. Even if you live in an area that has restricted access, we can complete the job with no fuss or problems. Our vehicles are modern and regularly maintained to ensure reliability and punctuality. When you contact us, we will give you a free, no obligation quote so that you are always aware of the full cost. However, if for any reason you are not completely satisfied, we have a money back guarantee that will refund the cost. These are just some of the aspects that we have been working on to give our customers a good experience with our company.
Recycling Is at the Heart of What Our SE1 Garden Clearance Team Do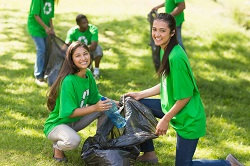 When we complete the Waterloo garden waste removal in your garden in SE1, we won't just send the junk to a landfill. We always try our best to recycle all the waste we collect regardless of where it came from. If there is any reason why we cannot recycle something, then we will take it to an authorised refuse centre to be disposed of in the correct way. We can deal with any type of waste in this way including building site waste. We think that looking after the environment is a big part of being a responsible company and we know that this is important to our customers too. If you want to get more information about our recycling policies or just general information on our services, then call us now on 020 3743 9509 and speak to one of our friendly team members. They will be happy to help you with any problems.
Waterloo Garden Waste Removal Can Do It All With One Phone Call
There is no need to struggle with transporting rubbish to your local refuse centre. We can provide great garden waste disposal solutions to you and visit you on the same day if needed. With teams all over Waterloo, we can be there quickly and get the rubbish cleared away in no time. As we don't believe that good service should cost a lot of money, you will also be happy with our prices. There is no job too big; we can even accommodate commercial waste disposal and garden clearance. We also have the flexibility to provide both one-off and regular scheduled collections if you prefer. Why not get in touch for a free estimate and see how we can help you. All you need to do is call Rubbish Removal Waterloo today on 020 3743 9509 and we will tell you what Waterloo garden waste clearance services we have in SW1.
Save
Save